Speedwell Law is a Virginia law firm owned and operated by Michael "Misha" Gill. Misha concentrates his practice in the areas of estate planning and administration, although Misha prefers to use the phrase "personal legal affairs" to describe his practice because estate planning often brings up issues that could be variously categorized as family law, contracts, business, and real estate law, among others. Misha's background in business, finance, and entrepreneurship serve him well in advising his clients on all matters related to their personal legal affairs.
Speedwell Law is named after Misha's Great Grandfather's property near McLean, Virginia. The name pays homage to Misha's Virginia heritage going back to the Pilgrims who landed at Plymouth Rock. Misha is a Son of the American Revolution, and his family has lived in and around Northern Virginia and the District of Columbia going back at least 100 years. Speedwell Law derived inspiration for its logo from the eponymous wildflower, a Virginia native.
Misha was admitted to the bar of Virginia in December, 2013. He is a 2013 graduate of the Penn State Dickinson School of Law. Misha obtained a Bachelors Degree in Business Administration from the University of Richmond in 2010. Misha received his primary school education from the Lawrenceville School ('06) in Lawrenceville, New Jersey, and the Eaglebrook School ('03) in Deerfield, Massachusetts.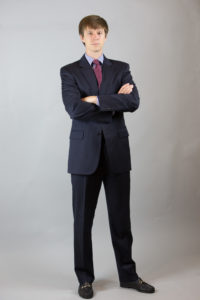 In addition to practicing law, Misha enjoys fly-fishing, golf, and giving back to the community. Misha is a member of the Business Networking International (BNI) group Alexandria the Great in Alexandria, VA
As the third Michael in his family after his father and grandfather, Misha's parents gave him his nickname, which he has used since birth. "Misha" is a Russian nickname for "Mikhail," and also the name of the bear who was the Russian Olympic Mascot for the 1980 Olympic Games. Misha does not have any family or business connections to Russia aside from his nickname.